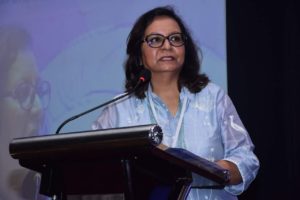 Mrs Aruna M Katara, President, Hope Foundation and Research Centre was honoured with a Lifetime Achievement Award for Building Institutions of Academic Excellence. This is an acknowledgement of the contribution that Hope Foundation has been doing towards building academic institutes like Finolex Academy of Management & Technology, FAMT (www.famt.ac.in) , International Institute of Information Technology, I²IT (www.isquareit.edu.in) and research institute, Pralhad P Chhabria Research Center (www.ppcrc.in).
While thanking the organizers for this Award, Mrs Katara spoke about carrying on the legacy of her father, Late Shri Pralhad P Chhabria – Founder Chairman, Finolex Group of Companies and Founder President of Hope Foundation. It was his dream to give back to the nation by way of creating academic and research institutes par excellence and this award is an acknowledgement of those efforts. She ended her acceptance speech by saying that these definitive steps that the trust has been taking are towards a brighter future for generations to come and extended these achievements to the unfailing support of the Team.
Along with Mrs Aruna M Katara are (L to R) – Dr. Sarika Agarwal, Managing Editor, Dialogue India, Mr. Swapnil Jain (Director, FMA Digital), Mr. Arun Wakhlu – Leadership Coach and Managing Director, Pragati Leadership Institute, Anuj Agarwal, Editor in Cheif, Dialogue India, Dr. Kamal Taori, Retd IAS Officer, Ex-Secretary, Govt of India, Mr. Anand Agarwal, Managing Director, Aaj Ka Anand Group and Mr. Rahul Jain, Director FMA Digital.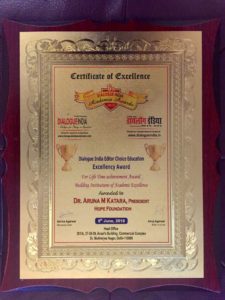 1,212 total views, 3 views today