"It is not what we achieve in life, but what we choose to leave behind for the future generation to benefit from, that will be remembered till eternity."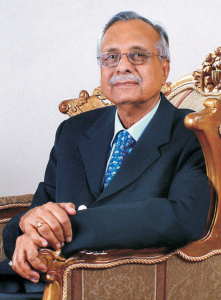 I have always believed that knowledge is very powerful and good education emancipates the mind and helps us become creators, inventors and innovators. Good education can shape your future by turning your dreams into reality, preparing you to face challenges ahead.
Finolex Academy of Management and   Technology (FAMT), Ratnagiri was created with the intention that the youth from places in and around Ratnagiri could benefit from the Academy's historic strengths and traditions as well as imbibe current best practices in technical learning. The Academy has become Finolex's legacy to the community at Ratnagiri where quality technical education is within reach.
It is with a sense of pride and great satisfaction that I have   watched   students   excel each year in their academics as well as other areas. It is our collective vision to instill in our students critical thinking, prepare them for a career ahead yet instill in them strong values and a sense of lifelong learning. We hope to leave behind an academic legacy that will help build a brighter future for our country! God bless!
P. P. Chhabria
Founder President
7,998 total views, 3 views today