News, Notices and Updates - No announcement available or all announcement expired.
About TNP
About FAMT Training And Placement Cell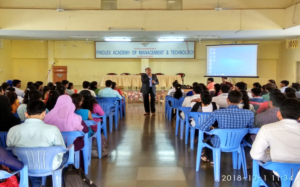 Training and Placement Cell actively interfaces with the reputed organizations for arranging interviews and campus drives. The cell endeavours to sort out specialized courses, workshops and corporate training sessions. Industry expert are invited intermittently to improve the knowledge of our understudy with the most recent technological developments and industry hones. We foster graduates who are well prepared to deal with the working standards of the industry in public and private sectors and help each understudy to characterize his/her career interest through expert's advice.
Our Goals
To provide summer industrial training for the FAMT students
To arrange Seminars, workshops and lectures by experts from the industry
To cognizant Career guidance for competitive exams and higher studies
To organize Campus Interviews for pre-final and final year students
To arrange Industry – Institution interaction to establish a rapport with the industry
TNP Team
Training And Placement Team
Mr. Kishor Bhosale – T&P Officer- Head
Mr. Atul Yadav – Deputy T&P Officer
Mr. Mahadev Naik – Assistant T&P Officer
Departmental Co-ordinators
Mr. Sudhir Wamane (Electrical)
Mr. Prabodh Horambe (Mechanical)
Ms. Manasi Kolwankar (Electronics and Telecommunications)
Mr. Amol Sutar (Electronics)
Mr. Raju Marag (Chemcial)
Mr. Onkar Dike (IT)
Mr. Kishor Bhosale (MCA)
Departmental Co-Coordinators
Mr. Deven Ketkar (IT)
Mr. Suraj Shete (Electronics)
Mr. Pratik Kamble (Mechanical)
News And Events
News and Events of Training And Placement Cell
Placement Record
Download
Campus Drives Orgnised by TNP, FAMT
Contact US - Training And Placement Cell