About FAMT Hostel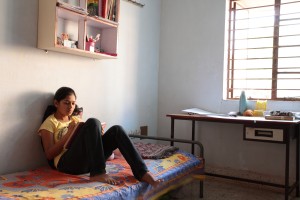 Presently,  the  hostel  is  located  in  Finolex  Industries Limited Housing Colony at Zadgaon, Ratnagiri (about 7 kms. from the Academy campus). A transport facility has been provided to ferry hostel residents as per Academy timings. The Boys hostel has a capacity of 150 students and a separate   Girls   hostel   accommodates   90 students. Qualified  medial  doctor  is  available on the hostel premises. Mess facility is also available to hostel residents.
The fee structure for the hostel is as given below:
Annual Hostel Charges –
22,000/- (non-refundable)
(The above annual charge is inclusive of hostel fees, transportation, light, water and conservancy).
Mess is provided on contractual basis and serves only vegetarian meals (breakfast, lunch and dinner). The charges will be
2000/- (approx) per month and has to be paid to the contractor directly. The payment norms for Mess are:
 4000/- (two months fees) to be paid at the time of hostel allocation.
 2000/- (approx) to be paid on the first of every month.
Advance of one month paid initially will be adjusted during the last month of the academic session.
50% of Hostel charges will be refunded if hostel admission is cancelled within 8 days from the date of admission.
No Dues Certificate from the Hostel Chief Warden and Mess Contractor is necessary for refund.
Hostel Staff
Download
11,328 total views, 3 views today