About Cell
About Cultural Cell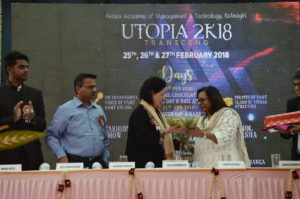 The need of today's age is to develop versatility of students. Only academic progress is not sufficient for the students today. To develop all-round personality, the participation of students in different extracurricular activities including many cultural activities is necessary. To foster the participation of students in various cultural activities, the Cultural Cell has been formed.
Cultural Cell of the FAMT works with great enthusiasm. The students participate and achieve success in many cultural events including Performing Arts, Fine Arts and Literary Events on University, State and National Level. Continuous encouragement and necessary guidance is provided to the students to participate in various activities.
The cultural Cell tries to inculcate and sustain the Social and National Values along with the development of various arts and skills among the students. Utopia is the Annual Fest conducted at FAMT which gives a great chance to the students to show their extra-curricular talent. Many events organized and participated under Cultural Cell boost the Inter-personal skills like Leadership, Time Management, Organizing Ability, Problem Solving etc. of the students. Through all this the students ultimately develop a well-groomed personality which enables them to make their bright future.
News And Events
Cultural Cell Committee
Cultural Cell Committee
Under Construction