"Education and technology in unison empower us to explore, change, grow and shape the future of humanity."

Sa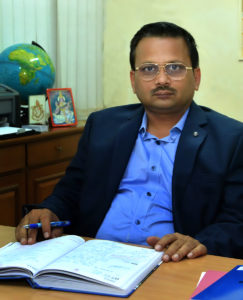 Greetings!
Remarkable progress in engineering has accelerated growth and created the most conducive environment of living ever for human beings in last two centuries. The greatest challenge ahead is realigning engineering with sustainable growth that ensures a secure, healthy and productive environment of living for all. Technical education prepares us to face such challenges posed on the way to growth and set the tune for social change.
FAMT, a dream conceived by our founder president Late Shri P.P. Chhabria, has opened the avenue of technical education for students from Konkan. The visionary leadership of our president, Mrs Aruna Katara is inspirational in pursuing our aim to be the centre of excellence in the field of technical education. FAMT was established with a vision to nurture professionals in tune with global trends, equipped with engineering knowledge, skills, and creativity; who will contribute in technological advancement of the nation. To accomplish its vision, the academy has launched six undergraduate and two post graduate programmes. The institute offers quality education with excellent infrastructure at affordable cost. Inculcating the culture of play hard and play fair among our students, FAMT has facilitated dream of many engineering aspirants who are now successful professionals and entrepreneurs contributing across globe. Relentless efforts of our faculty and students have earned recognition to the institute in University of Mumbai and across Konkan.
In our goal to nurture outstanding technocrats, holistic development of students takes precedence at the institute. Therefore, the institute offers a vibrant academic ambience with excellent amenities, robust training with industry collaborations and student-centered activities on campus to promote professional and personal growth of students. I am confident that the learning experience at FAMT will help students in exploring and fostering their potential to face challenges of global industry.  I welcome and offer you my best wishes for enriching learning experience at FAMT.
Principal
12,482 total views, 4 views today